Grand Cherokee Trailhawk is the Four Wheeler "2017 SUV of the Year"
When someone wants an authoritative, educated opinion on anything SUV or off-road related, they turns to Four Wheeler. The off-road-centric publication offers news, tips and reviews of the latest off-roading equipment; which is why when the Jeep Grand Cherokee Trailhawk edition wins the magazine's "2017 SUV of the Year" award, it's no small feat.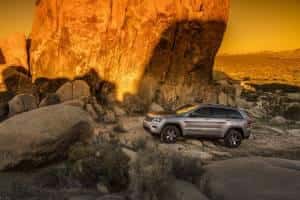 The Grand Cherokee Trailhawk is officially the most capable SUV to come out of a factory. It uses off-road features like a special Quadra-Lift air suspension to handle all sorts of terrains and conditions. Plus, the Grand Cherokee Trailhawk's rugged appearance is a clear indicator that it's ready for some roughhousing.
The SUV of the Year award is not a haphazard decision. The editors of Four Wheeler put many vehicles through strenuous tests to see which handles the best. These trials include all sorts of terrain, from snow to gravel to sand to mud to smooth pavement. Each vehicle is also tested at multiple elevations. The editors look at the vehicle's visibility, its four-wheel drive performance, its powertrain, its handling, its interior, its efficiency and everything in between. A vehicle really has to prove itself to win the 2017 SUV of the Year award. The fact that the Jeep Grand Cherokee Trailhawk did this time around is proof that Jeep is as committed as ever to providing the best performance on and off the beaten path.