Dodge City Body Shop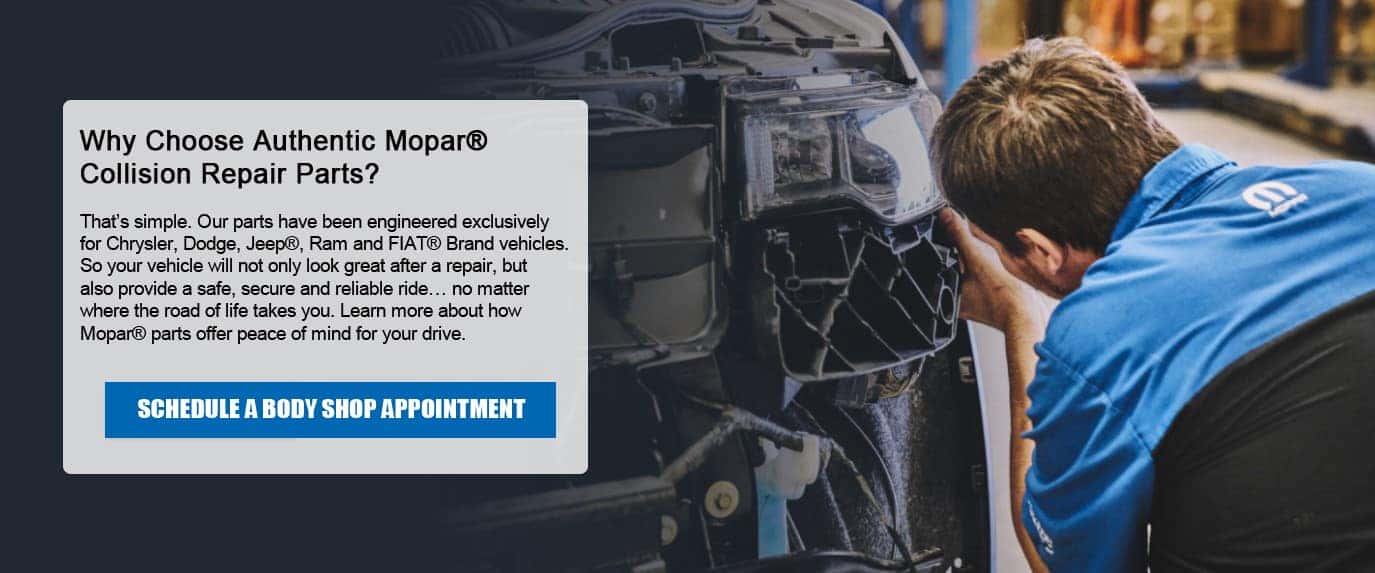 3450 S. 108th Street
Greenfield, WI 53227
866.812.4229
Our Body Shop is Located at our Honda City Dealership
Why Choose Authentic Mopar® Collision Repair Parts?
That's simple. Our parts have been engineered exclusively for Chrysler, Dodge, Jeep®, Ram and FIAT® Brand vehicles. So your vehicle will not only look great after a repair, but also provide a safe, secure and reliable ride… no matter where the road of life takes you. Learn more about how Mopar® parts offer peace of mind for your drive.
THE MOPAR® DIFFERENCE
Repairs after a collision affect the safety, security and performance of your vehicle, not just how it looks. By ensuring your repairs are made using Mopar® collision parts over aftermarket ones, you'll have the advantage of quality parts engineered to fit and function specifically in your Chrysler, Dodge, Jeep®, Ram and FIAT® Brand vehicle.
Why Choose Schlossmann Dodge City
If your Chrysler, Dodge, Jeep, Ram or Fiat has been involved in an accident, schedule an appointment with Dodge City today. We use genuine Mopar® parts engineered to fit and function properly, and our technicians are trained on the methods Chrysler recommends for vehicle repairs.
Whether it's a fender or a headlamp when a part fits right, it performs better, It's really that simple. Take Mopar® glass, for example, because the windows are designed specifically for FCA US LLC products, they have the optimum fit for your vehicle, which can prevent a variety of problems in the long run. Schedule an appointment by filling out the easy form below or give us a call today. We will get you back on the road as quickly as possible in a vehicle that not only looks good, but is safe for your family's needs.
We are a Honda ProFirst & Subaru Collision Certified Body Shop
Collision Center and Auto Body Shop
Honda City, Subaru City and Dodge City recently combine our great teams into one full service Collision Center and Auto Body Shop. Our Body Shop is staffed with the most qualified technicians ready to answer your questions and address your body shop needs. Contact our body shop if you have any additional questions.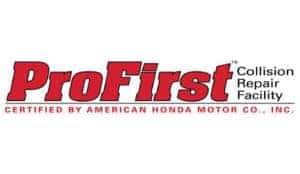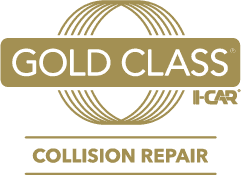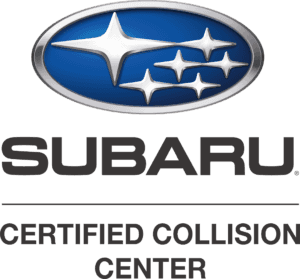 Why consider a ProFirst Certified Body Shop?
ProFirst Certified shops are committed to a complete repair through required ongoing industry education and annual third party certifications.
What is a ProFirst Certified shop?
ProFirst shops are certified by Honda for proper tools, training, and commitment to ongoing training to help ensure thorough repairs for your Honda.
About Our Body Shop
Schlossmann Auto Group provides a full-service automotive body shop and collision repair center facility, offering auto and body repair services. Our collision repair technicians are certified so you can rest assured that your car, truck, or SUV will be worked on by experts who really care. Our attention to detail, combined with our state of the art auto repair facility makes it a fast and easy process.
Whether you just need a bumper replaced, paint-less dent repair, or a full auto body repair, we can help. Schlossmann Auto Group's auto body and collision repair shop services all makes and models and works with all major insurance providers. At our Schlossmann Auto Body Shop and Collision Center located at 3450 S 108th in Greenfield, WI you will enjoy a higher level of expertise and attention to detail — full-service repair, top quality detailing, financing, specialty and most important, customer care. Our highly skilled technicians are not just here to repair your car, but to meet your needs. Customer satisfaction for any Milwaukee collision center or body shop begins with expert car repair. We handle accidents of all types, including body work or cosmetic work for other dealerships and clients throughout the Milwaukee, WI area. Schlossmann Auto Group can patch up the bent bumper on your Dodge Durango, Honda Accord or your Lexus sedan, we repair and work on all makes and models of cars, trucks, vans and SUV's. Schlossmann Auto Group will handle the dented door and stuck window on your vehicle. Whether you're a Ford-150 truck driver or a Honda Civic Hybrid owner, we'll work to get your car back in shape, fast.
We work with all insurance companies
We accept all national and Wisconsin Insurance companies–we've seen them all and we're confident we can work with yours. We also do specialty, custom and no-coverage work for clients, so if you intend to pay outside of insurance, that's not a problem. We can work with you to help match your payment to your needs and deliver you the body shop or collision repairs that you need.
Schlossmann Auto Group will work to give you the work you want, too. Schlossmann Auto Group Collision Center Full-Service Repair's qualified technicians can handle paint, paint-less dent repair, complete detailing, frame measuring, liner frame rack and much, much more. Towing and car rental can also be arranged. Ask about warranty and guarantees that apply to you. And all of our collision and body shop center staff will strive to deliver their best collision center work in a timely and considerate manner. That's why we have the close relationship with the major national and local Brookfield and Milwaukee insurance companies that we do.
---
---